These suggestions were offered by Kathy Shockley in the spring of 2004.
The labyrinth was dedicated by the Tuesday Morning Contemplative Prayer Group at DeepHaven Labyrinths and Retreats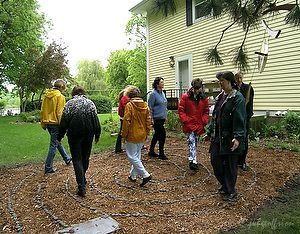 Suggestion 1:
Stand around the labyrinth with our left hands on our hearts and our right hands extended into it. Speak blessings or hope for those who will walk and pray here.
Suggestion 2:
Hold hands and travel it while listening to a CD of music that has significance for the group. Because of its design with the two parallel paths, we could go in one path and come out the other. Then we could circle the outside, going in the path we had come out of, and going out of the path we first went in. That way we can give our bodily blessing to the labyrinth traveling both directions.
Suggestion 3:
We could walk in and out in silent prayer together. Afterwards we could stand around the outside and say the Lord's Prayer together.