When used from a faith perspective, labyrinths are spiritual tools that help people to perceive and connect with God's presence.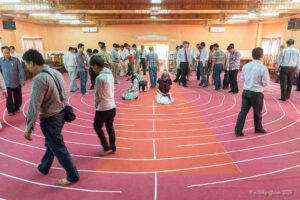 Click here to read a bibliography of books that relate to the Christian use of labyrinths
What biblical verses and concepts support a Christian understanding of labyrinths?
Labyrinths are spiritual tools that facilitate the various types of prayer mentioned and illustrated in the Hebrew and Christian Scriptures, including, but not limited to, intercession, praise, meditation, confession, and free-flowing conversation.
Concepts of journeying in faith and following God's path help in linking biblical teaching and labyrinth experience. Christians using labyrinths often report experiences of God's inviting, enlightening, and grace-full presence.
Biblical themes of love, joy, peace, truth, comfort, guidance, service, and wisdom are particularly relevant to these encounters.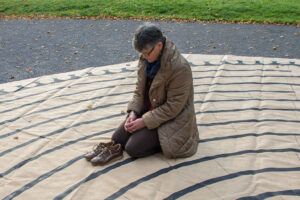 What are some of the theological messages of labyrinths?
Divine help is available. A path of wisdom leads one towards God.
Religious devotion can be intensely pleasurable.
Truth and God's presence are yoked. As one moves in the Divine Presence, truth becomes clearer and more compelling.
Moving one's body in faith can support one's desire for spiritual connection.
Journeying towards intimacy with God is seldom a linear process.
Sacred patterns can assist seekers in moving beyond their own limitations. God "speaks" using symbols.
Love for God leads to personal encounters with the Divine, and to a commitment to acting in faith.
Desire for wider service springs naturally from time spent with God.
What can be learned about God by using labyrinths?
God is real—and accessible.
God values truth and communicates it freely.
God's presence supports wholeness.
God is unpredictable—but trustworthy. We cannot control or even anticipate God's next move in our lives.
What about Jesus and the labyrinth?
Labyrinths were in use long before the time of Jesus. We have no record of Jesus' referring to, or using a labyrinth, although the decorative Greek key pattern was well known and used in Palestine during Jesus' lifetime. This simple pattern can be extended to the shape of a 7 circuit "classical" labyrinth.
Jesus's claim, "I am the way, the truth, and the life…"(John 14:6) can be understood in terms of the metaphor of labyrinths–a single pathway leading one to God, the center of all.
This was taken from Christian Prayer and Labyrinths. Cleveland: Pilgrim Press, 2004.